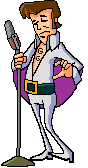 I will teach you how to make your own Cd+g's step by step.
Download free karaoke songs and software.
Lyrics to all songs will be displayed while you sing.
Free top rated karaoke software.
Put all of your favorite karaoke music on any recordable Cd.
No more buying pre-selected karaoke Cd's
All you need is:

-Internet Connection
-Karaoke Machine and/or your PC
-A Cd Writer Recorder
-Windows Operating System
-Desire To Have Some Fun
Remember:
These Are Professionally Done
Not MIDI Files!!